Fri 3 Nov 2023
Best Wine & Spirits for Asia Announced
Celebrating its 15th edition in 2023, the Cathay Hong Kong International Wine & Spirit Competition has announced its full results at the Hong Kong International Wine & Spirit Fair Awards Ceremony on 3 November, offering a snapshot of the trends in style and taste preferences in Asia.
Announced by the Competition's Vice Chair of Judges, Sarah Wong, a total of 61 trophies were handed out to wine, spirit, sake and now beer producers from around the world. On top of that, 109 gold medals were awarded, along with a 341 silver and 468 bronze medals.


Topping the trophy and medal haul once again was Australia, receiving 9 trophies. In a surprise win, an Australian sparkling wine - Gilbert Family Wine Company 2016 Gilbert Blanc de Blancs - took the crown of Best Sparkling Wine from traditional sparkling homelands of Europe. Less surprising, Australia's "national" variety, Shiraz, claimed the throne of Best Red Wine from Australia (Zilzie Limited Edition Shiraz 2021).
France ranked the second on the medal list, followed by Austria and China.
Chardonnay proved the star variety on the trophy list. Five Chardonnays from Chile, Australia, South Africa and New Zealand bagged a total of 7 trophies. But the star of the show was Petaluma Yellow Label Piccadilly Valley Chardonnay 2022, taking Best White Wine from Australia, Best Wine from Australia and Best Chardonnay. There were 3 Pinot Noirs who received trophies, including its long-heralded "perfect match" in duck with Cambria Estate Winery Julia's Vineyard Pinot Noir 2021 grabbing the title of Best Pairing with Chinese Crispy Smoked Duck.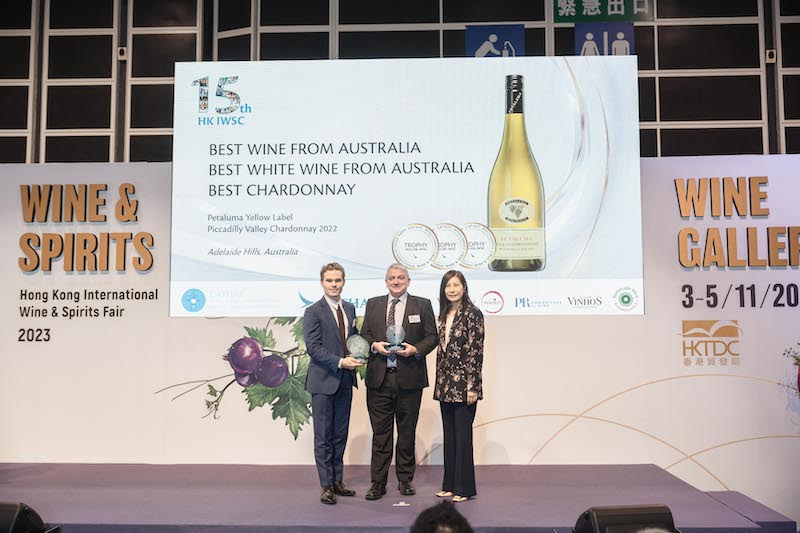 China surprised the judging team with a number of high quality brandy and huangjiu. Brandies of Koya from Shandong won 1 silver, 2 golds and 1 trophy award. Together with a brandy by Dynasty, China obtained 3 gold medals in this category. Mansong Special Edition Huangjiu, a traditional rice wine from Shaoxing, showed its all-round food matching capabilities by obtaining the Best Pairing with Japanese Wagyu Beef and Best Pairing with Inaniwa Udon. Soup dishes are often challenging for wine matching, but Mansong Special Edition Huangjiu nailed it.
On the other hand, Scottish spirits enticed the palates of Asia's top judges, not only with whiskies but also gin and vodka. The Biggar Gin Company Biggar Ginwas awarded trophies for both Best London Dry Gin and Best Gin.
To support the global effort on sustainability, this year HK IWSC introduced the Light Bottle Still Wine Trophy. To demonstrate to the public that bottle weight has no impact on quality, HK IWSC selected the two lightest bottles with 90+ points as the winners of this category. Those wines were Catena Appellation Vista Flores Malbec 2021, packed in a traditional glass bottle and screwcap, weighing a total of 1.133 kg. The second winner was Djuce Yeswecan Dominique Piron Beaujolais 2020 from France, packed in an aluminum can.
The 2023 HK IWSC judging event brought together a remarkable assembly of 66 industry judges, each possessing extensive expertise and qualifications. Coming from 9 cities / regions, the judges' collective knowledge and discerning palates ensured a rigorous evaluation process, guaranteeing that only the finest drinks would receive recognition in the competition.
Full results can be found
here
.
View
photos of Award Ceremony